Investor Overview
Duluth Trading is a growing lifestyle brand for the Modern, Self-Reliant American.
Based in Mt. Horeb, Wisconsin, we offer high quality, solution-based casual wear, workwear and accessories for men and women who lead a hands-on lifestyle and who value a job well-done. We provide our customers an engaging and entertaining experience. Our marketing incorporates humor and storytelling that convey the uniqueness of our products in a distinctive, fun way, and are available through our content-rich website, catalogs, and "store like no other" retail locations. We are committed to outstanding customer service backed by our "No Bull Guarantee."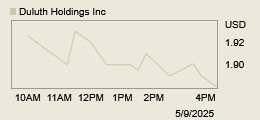 Data Provided by Refinitiv. Minimum 15 minutes delayed.